Applies to: HealthEngine Integration, PlusOne Calendar, PlusOne Record Services, COVID Recording, COVID Vaccination Pre-Screening Form.
PlusOne by MedAdvisor is integrated with Health Engine's Patient Appointment Management System (PAMS). This will allow you to view today's bookings from PAMS and select the patient to record the service in PlusOne. COVID vaccination appointments can now be viewed and recorded in PlusOne.
Please follow these steps:
1. Select Record Services in the left hand menu
2. Today's bookings will be shown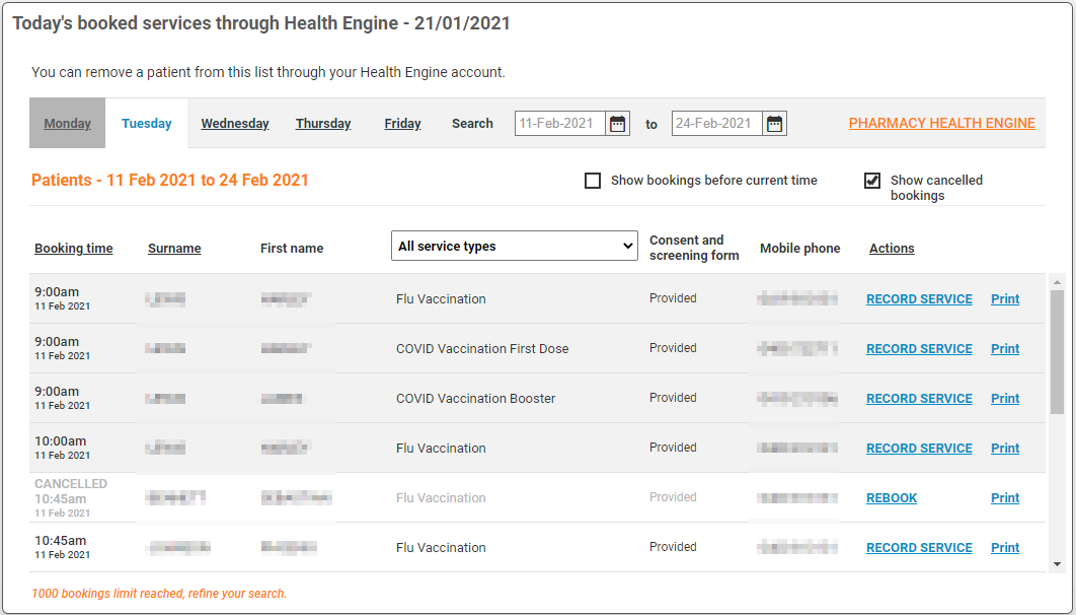 3. Select RECORD SERVICE next to the patients details.
4. In the table under the 'CONSENT AND SCREENING FORM' column, if the patient has completed the pre-screening form this section this will show as 'provided'. If the patient has not completed the form 'not provided' will display.
5. The service form will launch when selecting record service and the patient information and pre-screening checklist will be pre-filled out (if the patient filled it out) in the patients profile.
6. The answers will be Yes and No answers in the pre screening form.
Please see additional information on how to record a COVID Vaccination in PlusOne following the link COVID Vaccinations - Recording Vaccinations in PlusOne
Make sure all of your staff are trained and for more information visit mymedadvisor.com or contact support if you have any questions.
To connect this feature, please contact Health Engine directly.
If you have any further questions, please contact us on Support
We're always happy to help. Our support team is available Monday to Friday, 9AM–5PM (AEST).