1. How do I remove a customer from the SMS service?
Go to PlusOne > Manager customers > Select the customer > Click Decline on the bottom left-hand corner.
2. What happens with scripts that are on Hold?
If you dispense a script to be put on hold in your dispense system, it will be added to the patient profile in PlusOne automatically.
If you would like to exclude held scripts from SMS reminders, go to PlusOne (on the main computer) >Settings > SMS Options > Script Extraction Options > Under Deferred Scripts Handing choose "Do not include repeats from deferred scripts"
3. Where can I find the Privacy policies and Pharmacy license agreement?
https://www.mymedadvisor.com/nz/privacy
http://www.mymedadvisor.com/nz/pharmacy/termsconditions
https://www.mymedadvisor.com/nz/eula/unichemandlife
4. Why is PlusOne running very slow?
There could be several reasons for this – internet connection, the computer may need a reboot, etc. If you think the problem is with PlusOne, please contact the MedAdvisor Support Team: https://www.mymedadvisor.com/pharmacy-help-centre/nz
5. Why is PlusOne prompting for a username and password?
If PlusOne prompts you to login – click cancel to the popup message.
Right click on PlusOne in the taskbar by the clock (you may need to click the up arrow "Show Hidden Icons" - see screenshot below) and click Exit and then restart PlusOne.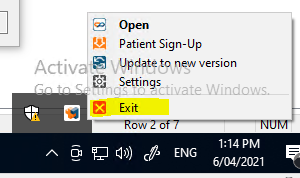 It's important to note this only needs to be completed on machines that are affected - it may still be working on different terminals in the pharmacy.
If there is still an issue accessing PlusOne please contact the MedAdvisor Support Team: https://www.mymedadvisor.com/pharmacy-help-centre/nz
6. Can I enable SMS reminders for Controlled Drugs?
Controlled drugs can be enabled for SMS repeat reminders by ticking the medicine from the patient's profile in PlusOne.
7. If I update the mobile number in the dispensing system, will it update PlusOne?
No, the mobile number will need to be updated in PlusOne manually.
8. Are patients in institutions (eg nursing homes) excluded from SMS reminders?
Institution patients were excluded when the pharmacy migrated from the previous SMS system to PlusOne.

If a SMS reminder patient is moved into an institution, they will need to be manually removed from SMS reminders. This can be done by following the steps in section 4 of this Quick Start Guide (Unsubscribe patients)
9. Which medications are automatically excluded from SMS reminders?
The following are excluded from SMS reminders.
Controlled drugs (all class B and C)
Institution patients
Expired scripts
To enable reminders for excluded medications, go the PlusOne > Manage Customers > search for the customer > select the customer > untick the medication
If you had patients that were manually signed up before the auto-sign up feature was enabled in PlusOne, and were dispensed one of the excluded medications
If that excluded medication had one or more repeats then this will not be excluded from SMS reminders
If that excluded medication had 0 repeats, then it will be excluded from SMS reminders
10. What happens if I mark a script as inactive for an existing SMS reminder customer
Ensure you mark the most recent dispense as inactive and this will automatically update PlusOne.
Note: if you mark the initial dispense as inactive, this will NOT update PlusOne.
11. Why does my patient have trouble replying to an SMS reminder message?
If the patient receives an error such as "Failed to send" and is accompanied by an exclamation symbol, this could be due to reasons relating to their mobile service plan, network issues, prepaid connection etc.
The customer needs to click on exclamation symbol on the failed messages and contact their mobile service provider for a resolution.
12. How can I disable the pop ups to add new medication to SMS reminders?
If you have not enabled auto-sign up of patients, a pop up will appear when dispensing a new medication for enrolled patients.
To disable these pop ups, go to PlusOne > Settings > SMS Options > unselect "Display prompt on new medications for enrolled patients".
Please note, disabling this option may lead to missed set up of reminders for new medications. If you have auto-sign up enabled, new medications will automatically be set up for reminders without the pop up appearing.
13. Do I need to advise MedAdvisor when there are changes to our server computer?
Any changes to the server will mean MedAdvisor will stop working. BEFORE the server move, you need to email support@medadvisor.com.au with the date of the move and your IT Providers name and email/number. MedAdvisor will then organise to take a backup from the old server and do a re-install on the new server.
14. I am getting a new dispensing computer, how do I organise to get MedAdvisor installed?
All new computers used for dispensing will need MedAdvisor installed. If you get a new computer, you need to email support@medadvisor.com.au and MedAdvisor will organise to install PlusOne so that no scripts miss their repeat reminders being setup.
15. How do I contact the MedAdvisor support team?
Email: support@medadvisor.com.au
Phone: 0800 767 026 (Monday to Friday 9am – 5pm NZST)