Applies to: Automatic Claiming for COVID Vaccination Recording, Record Services, AIR, PPA.
MedAdvisor is integrated with the Pharmacy Program Administrator Portal for automatic claiming for COVID Vaccination recording. You can claim your fee by completing the services in PlusOne.
To claim the Covid-19 service fee with PPA you must ensure you have registered for the CVCP program on the PPA portal.
To get started you will need to link your Pharmacy Programs Administrator account with PlusOne, to do this you will need:
Access your account in the PPA portal
Your PPA ID
An API key
For more information on how to obtain these you can use the attached guide Pharmacy Programs Administrator Portal Integration Guide in the attached link.
You can record all of the service in Record Services:
1. Select Record Services in the left hand menu and select Service Settings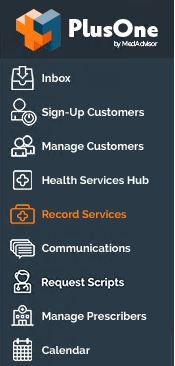 2. Make sure Pharmacy Vaccination Settings are populated with the following information:
Immunisation Provider Number
Minor ID
Location ID
If the above details are entered, proceed to step 3.
If these details are not entered, make sure to entered, you must enter your Immunisation Provider Number, download the HW027 form and submit to Medicare.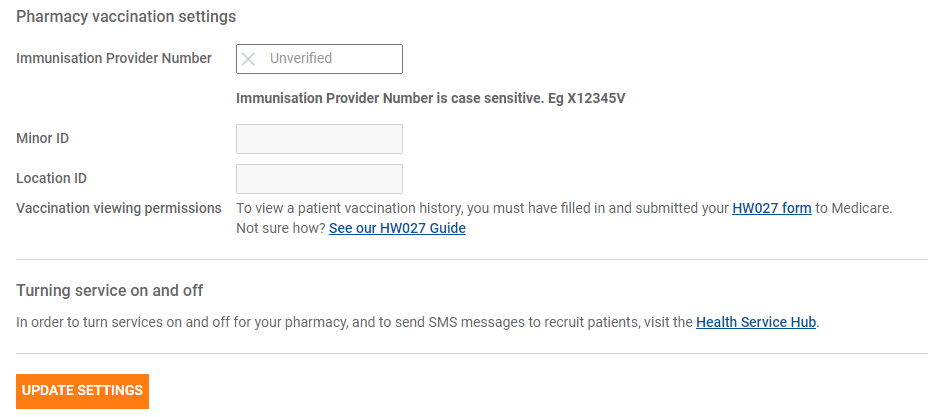 3. Make sure Pharmacy Programs Administrator Account Details are populated with the following information:
If these details are entered, your integration is set up and ready to claim.
If these details are not entered, enter the details and select Update Settings.

Note: If you have not updated your immunisation provider number in PlusOne, please follow the steps in the link attached. How to record immunisations and upload to AIR
Note: Your PPA ID is valid for 1 year.
If the AIR or the PPA details are not updated correctly, a pop up will display indicating the information which needs to be updated. The message will also include the information which is incorrect or missing.
Example: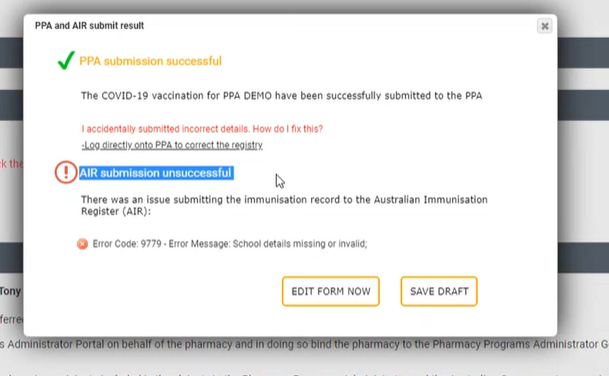 If the submission for AIR and PPA are both successful the follow pop up box will appear.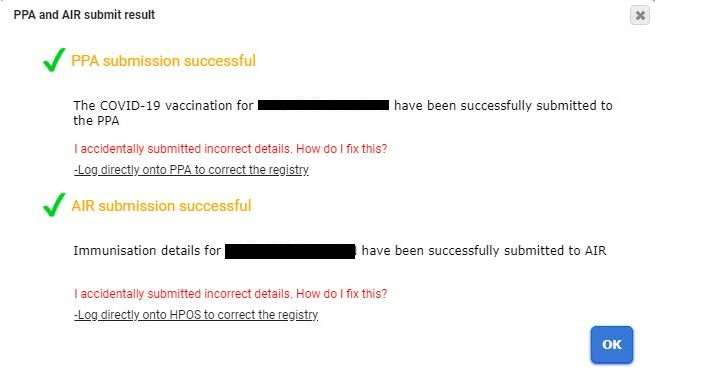 Make sure all of your staff are trained and for more information visit www.mymedadvisor.com or contact support if you have any questions.
If you have any further questions, please contact us on Support
We're always happy to help. Our support team is available Monday to Friday, 9AM–5PM (AEST).