Applies to: PlusOne Health Services Hub
The PharmaPrograms Nurofen Plus Program with RB is designed to help you support your Nurofen Plus® patients by:
Providing price certainty – patients pay no more than $19.95 per 30 tablet pack,
Quality Use of Medicines (QUM) messages for patients who need extra support,
An Australia wide network of participating pharmacies.
A key component of the Program includes dispensing Nurofen Plus® Tablets to patients at a price of no more than A$19.95 per prescription for 30 Tablets.
For your assistance in dispensing and supporting patients with the Nurofen Plus® Patient Program, RB will pay participating pharmacies a combined dispensing remuneration and program fee of $7.00 per dispensing of Nurofen Plus® Tablets 30. You can now claim for your supported patients on the PlusOne software in the Record Services component under reports.
Doctors and other prescribers of Nurofen Plus® Tablets will be informed of the name and location of Nurofen Plus® Network Pharmacies, where this additional patient support is provided.
The PharmaPrograms Nurofen Plus Program information and resources are located in PlusOne by MedAdvisor's Health Services Hub
In the Health Services Hub, select the PharmaPrograms tile
Next select the Nurofen Plus Program to open the program
(If the Service Status appears as disabled, please enable the program)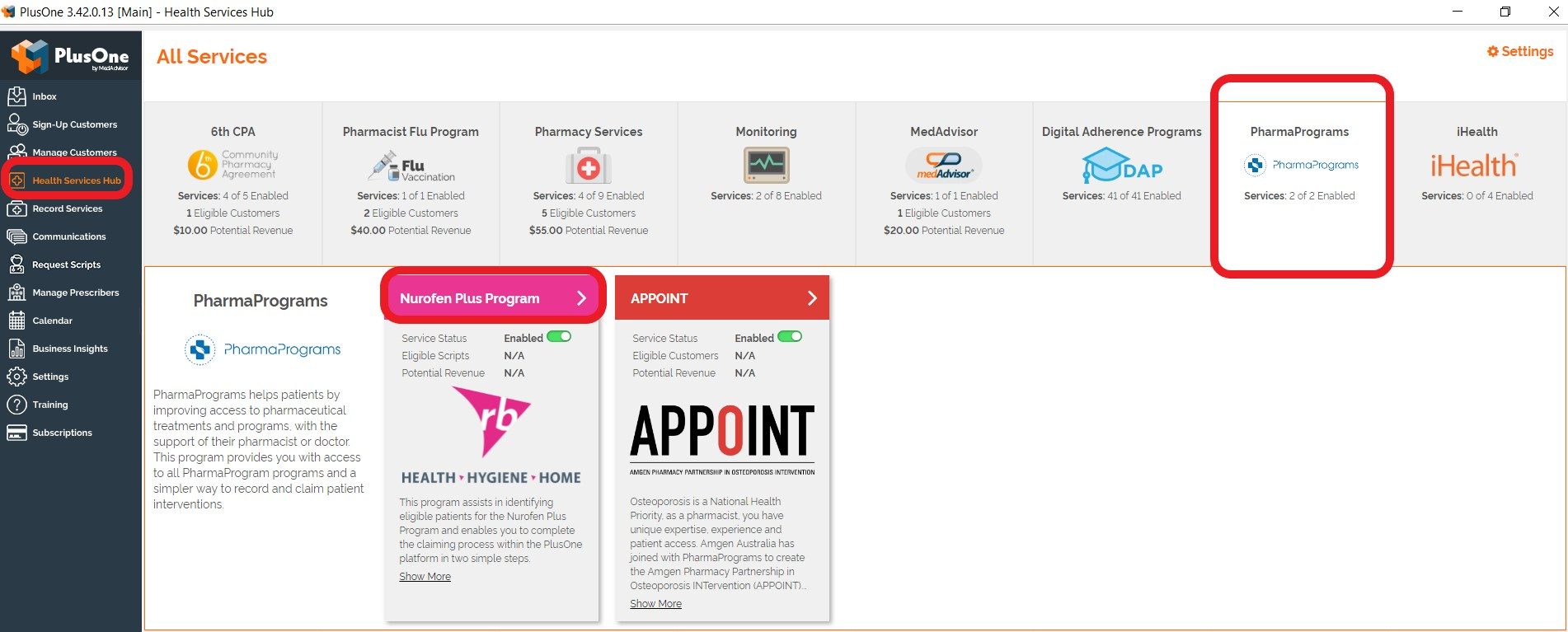 Enable Pop-Up Notifications.
(These will pop up when you dispense Nurofen Plus to an eligible patient)
Selecting Claim Now will direct you to the claiming report in PlusOne Record Services
(You can view the amount of eligible scripts you can claim for and the amount that have been claimed through PlusOne previously)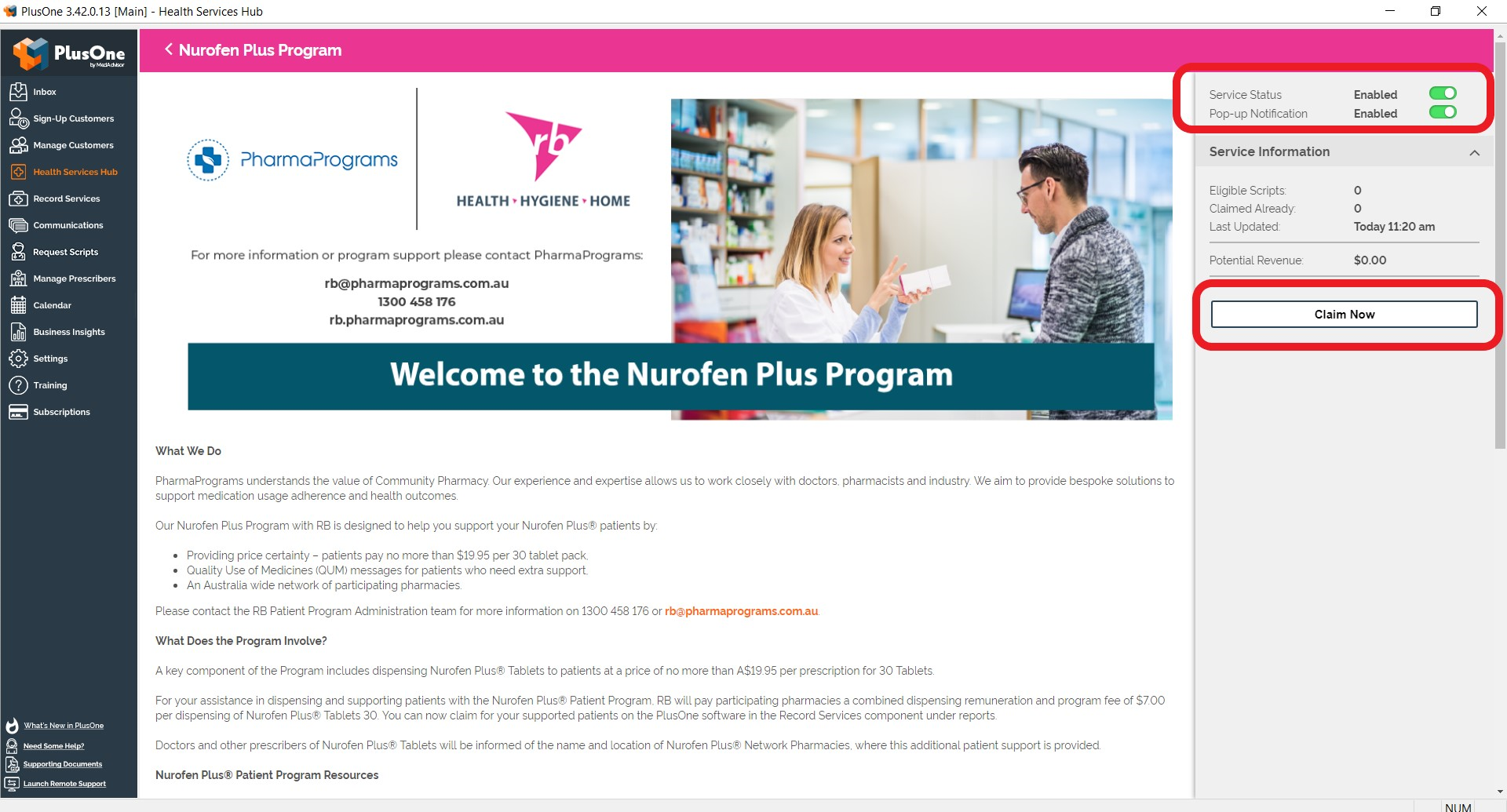 Handy Hint: Nurofen Plus Program Patient Program Resources can be downloaded from this screen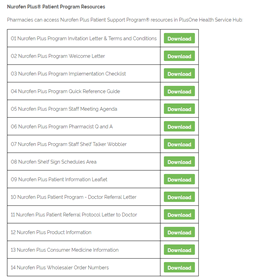 The claiming report will display all scripts which are eligible for claiming
(For program Terms and Conditions please download Nurofen Plus Program Patient Program Resources (refer to previous slide) or contact PharmaPrograms 1300 458 176 or rb@pharmaprograms.com.au)
Select the claiming date range you would like to make a claim for
Make sure all scripts you would like to claim for are selected and then select Claim Now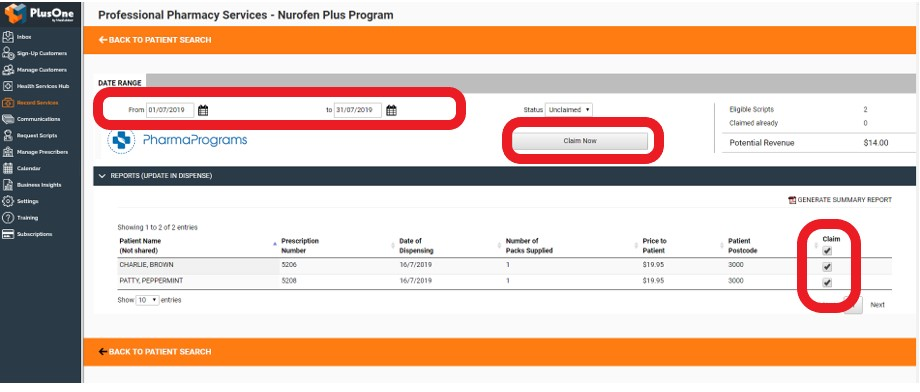 Enter the name of the pharmacist submitting the claim, the pharmacy's PharmaPrograms ID, confirmation of the provision of QUM and select Claim. (If you do not have a PharmaPrograms ID please contact PharmaPrograms direct - see contact details below)
This will send your eligible claims to PharmaPrograms for Professional Service Fees.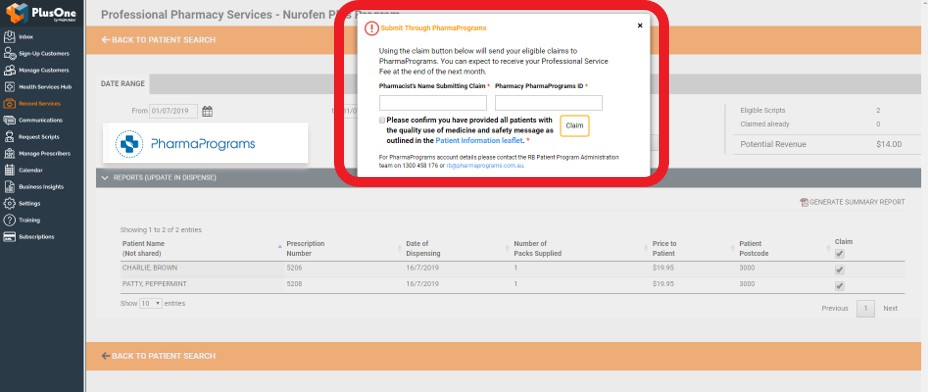 For all queries relating to the PharmaPrograms Nurofen Plus Program rules, requirements and payments, ID number please refer to the downloadable resources (see slide 3) or contact PharmaPrograms directly

Phone
1300 458 176
Email
If you have any further questions, please contact us on Support
We're always happy to help. Our support team is available Monday to Friday, 9AM–5PM (AEST).