The Travel Health & Vaccination form is available for all Victorian pilot pharmacies.
This service allows pharmacists to recommend vaccinations and refer patients to their GP when appropriate.
For a travel health or vaccine consultation, the pharmacy may charge a vaccination consultation or vaccine administration fee, plus the cost of any vaccines given.
Please follow these steps:
- Select Record Services in the left-hand menu of PlusOne.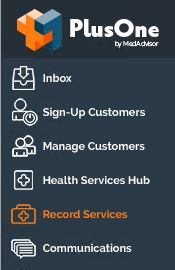 - Search for the patient and select SEARCH or select from the recently dispense list.

- Check the patient's CONSULTATION HISTORY. Select the SERVICE drop down and select TRAVEL HEALTH & VACCINATION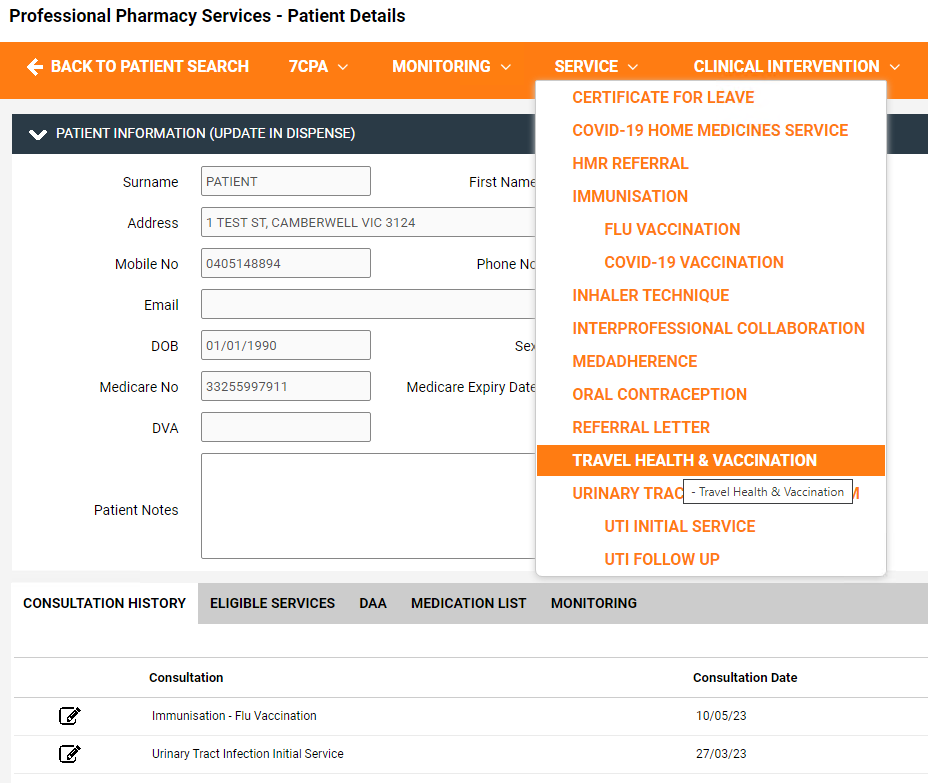 - Today's date is prepopulated. Select from the Pharmacist drop down under PHARMACIST DETAILS

- Complete all compulsory fields in the PATIENT INFORMATION section.
Please note: We recommend to update patient information in your dispense software.
- Under DETAILS - PHARMACIST SUITABILITY select the checkbox to confirm that you have completed the required training to deliver the service.

Please note: This box will remain ticked by default if you have previously indicated that you have completed the training.
- PATIENT CONSENT
The patient must provide informed consent to the service and the collection of their personal information. The patient consent recorded in the checkbox, must be taken as informed consent using points 1 and 2 in the Patient consent to treatment and privacy information sheet to support the discussion with the patient. CLICK HERE to access the patient consent to treatment and privacy information factsheet.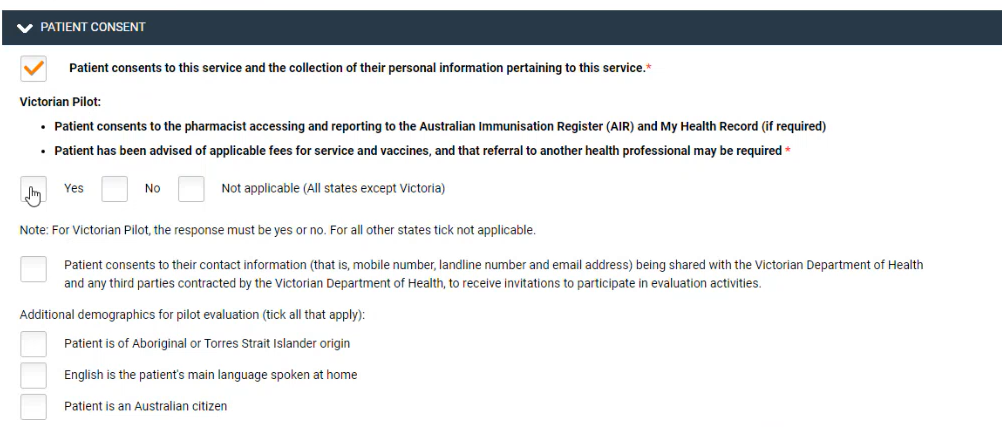 - There are additional ELIGIBILITY SCREENING questions for the Victorian pilot. Select the Eligibility Screening link to view the protocol document.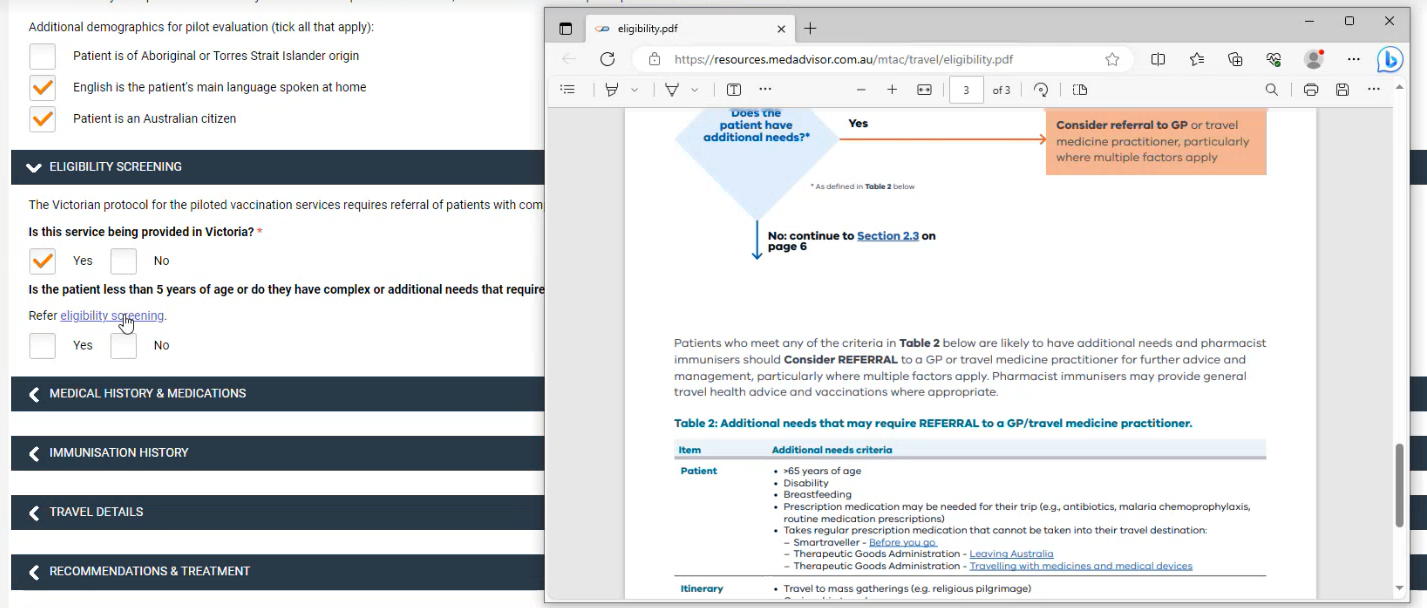 Please refer to the travel health care and risk assessment factors document for more information
- Select if the vaccination is for travel purposes or not.

- Discuss with the patient their current medical history to fill out the MEDICAL HISTORY & MEDICATIONS section, including selecting Current medications, entering clinical notes for 'Other medications' as well as 'Allergies & contraindications' and 'Other relevant patient factors'.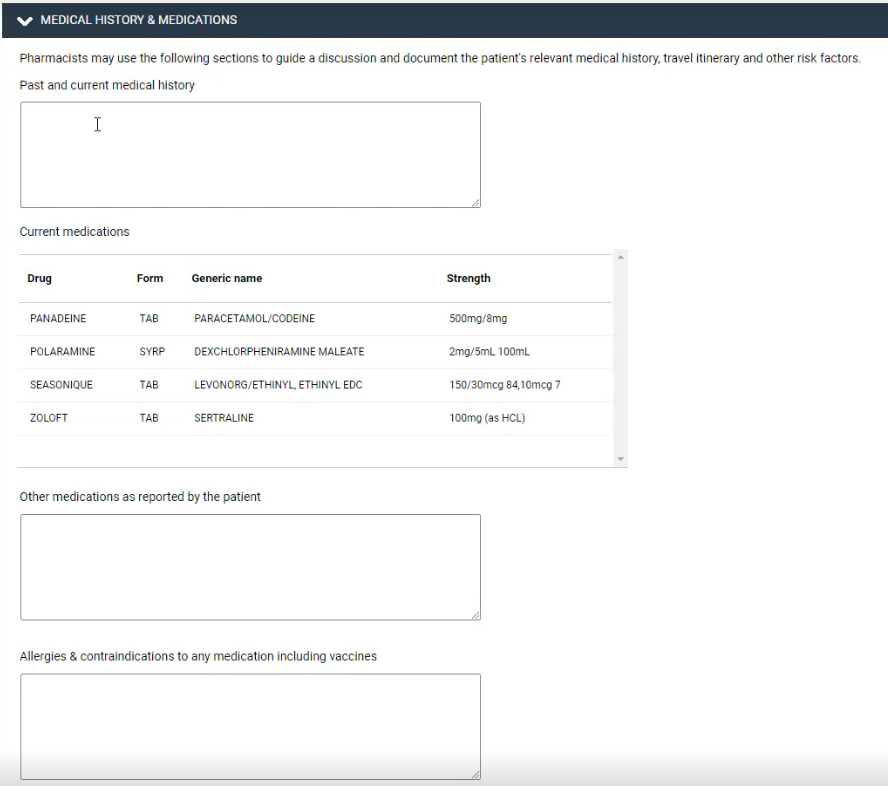 - The IMMUNISATION HISTORY section will show Australian Immunisation Record history and allow any additional clinical notes.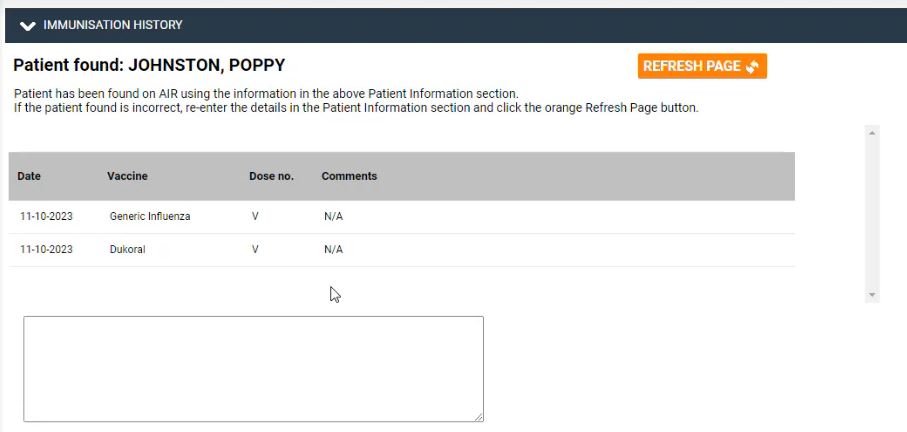 - Under TRAVEL DETAILS, click on the pre-travel risk assessment link and add any notes

- Determine what is required for the patients' trip and select the corresponding checkboxes in the RECOMMENDATIONS & TREATMENT section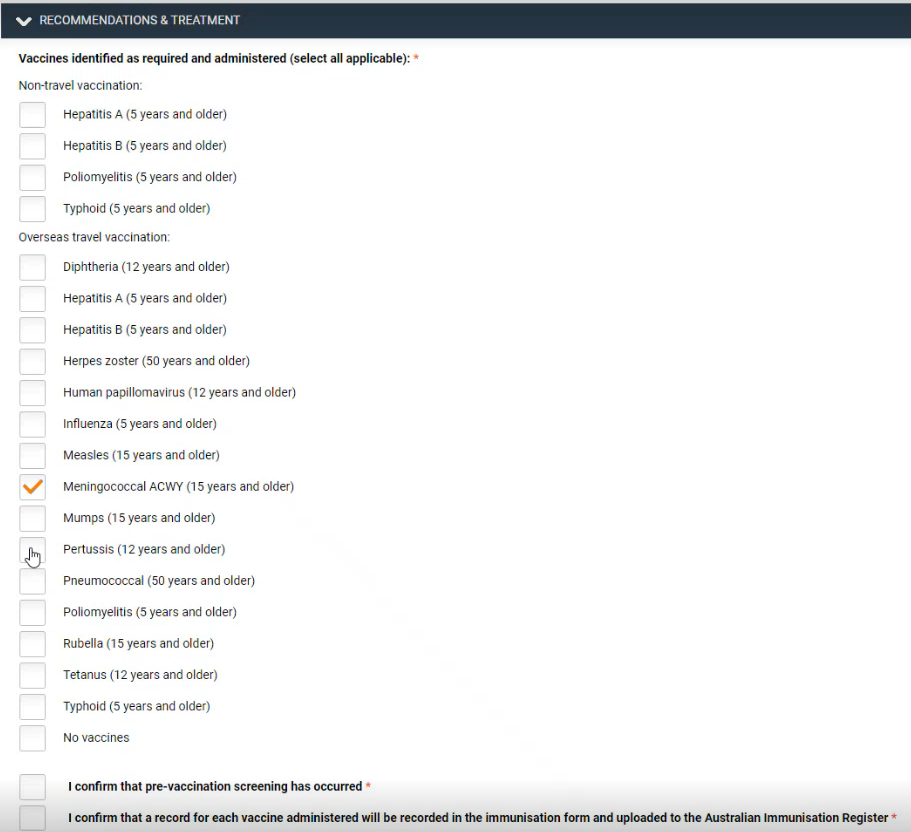 - Confirm which treatment has been provided

- In the DOCUMENTATION PROVIDED section, you will also need to select which documentation has been given to the patient

- At the top and the bottom of the form, you can save a draft, delete or complete the form.

- Once you have completed the form you must enter any immunisations that have occured as part of this consultation via the existing Immunisation form in Record Services.
Please note: Health Engine bookings will appear in the main screen of Record Services: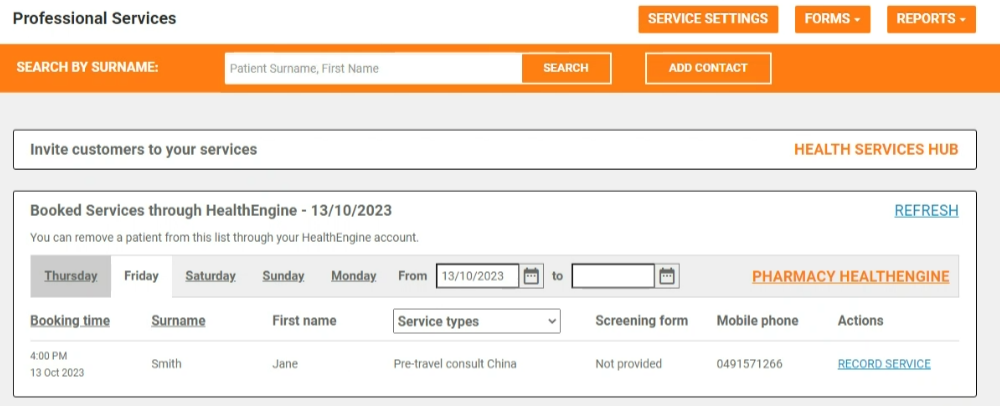 - Select Record Service under the Actions column to launch the form for these bookings.