The purpose of the Oral Contraception form is to support the resupply of oral contraception to patients for the NSW trial.
Please follow these steps:
- Select Record Services in the left-hand menu of PlusOne software.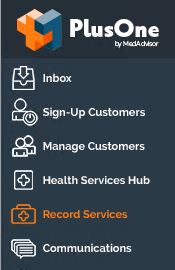 - Search for the patient and select SEARCH or select from the recently dispense list.

- Check the patients CONSULTATION HISTORY. Select the SERVICE drop down and select ORAL CONTRACEPTION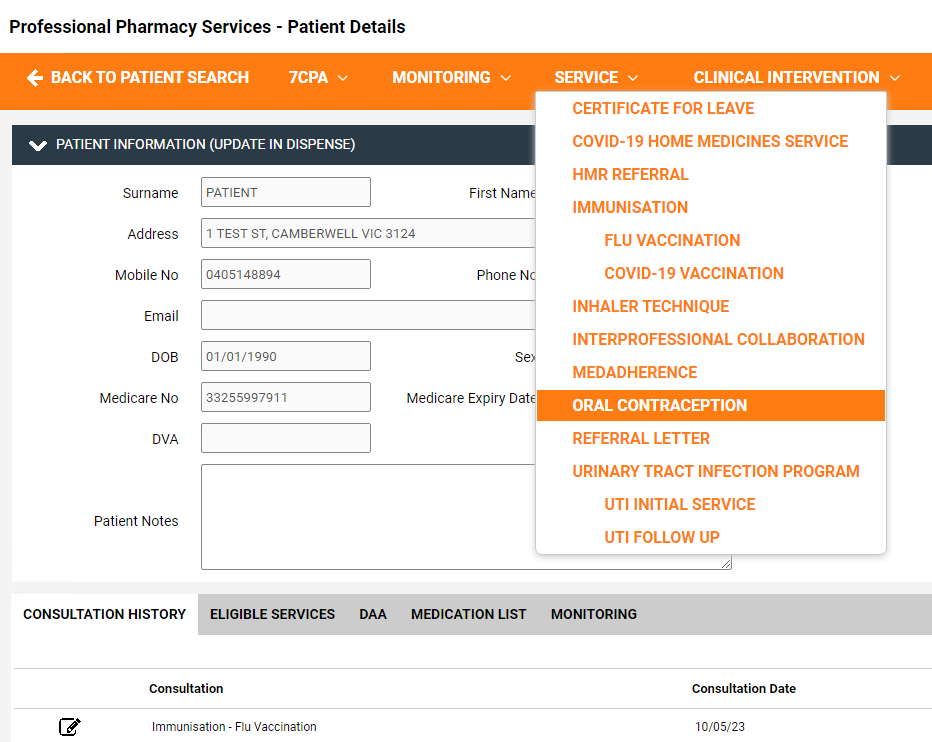 - Today's date is prepopulated. Select from the Pharmacist drop down under PHARMACIST DETAILS

- Complete all compulsory fields in the PATIENT INFORMATION section.
Please note: We recommend to update patient information in your dispense software.
- Under PHARMACIST SUITABILITY you must select the check box to indicate that you have completed the required training.

You can also click the links to view the NSW Management Protocol for both drug types, Combined and Progestogen Oral Contraception.
Please note: The system will remember this setting for each pharmacist, so you do not need to tick it each time.
- PATIENT CONSENT - The patient must consent to the service and the collection of their personal information including e-consent. Once the patient has accessed the website via the QR code that is located in pharmacy, enter the code. The form will indicate if the code is valid.


- Complete the SCREENING QUESTIONS including all mandatory fields. Patients must be female and ages between 18-35 years old, they must be taking an approved drug as listed in the protocol and initiated on the approve drug by their GP to be eligible.
- If the patient meets the eligibility criteria, proceed to DRUG SELECTION.
Please note: You must resupply the exact drug that the patient has been prescribed.
- There is a requirement to check Blood Pressure and BMI and enter these details in the CLINICAL MEASUREMENTS section, if the patient is presenting for this service for the first time. If the patient is hypertensive or has a BMI greater than 35, you are unable to proceed as the patient does not qualify. Please refer the patient to the GP or the emergency department.
- If there is any complication the patient will no longer be eligible, please complete the REFERRAL CRITERIA
- Complete TREATMENT (including supply quantity) and NON-PHARMACOLOGICAL & WOMEN"S HEALTH ADVICE (including resources, general health advice and medication counselling) sections.
- Complete REFERRAL and GP LETTER (as required with patient consent). A PDF will be generated.
- Fill out TIME TO COMPLETE in minutes.
Please note: The form will indicate eligibility and other requirements based on your answers.
- At the top and the bottom of the form, you can save a draft, delete or complete the form.